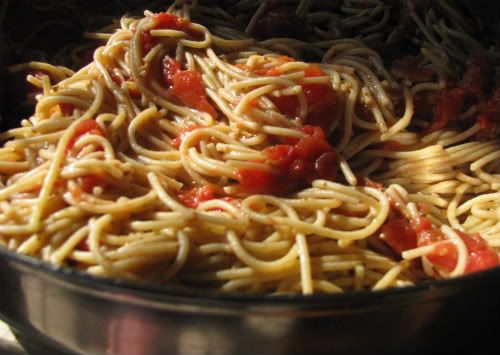 Sometimes the most simple recipes can be the most delicious. I stumbled upon this creation one day when I was trying to put together a simple dish that required few ingredients. After some brainstorming, voila! And Hubby puts his seal of approval on this. Check it out.
Ingredients:
1/2 small box thin, whole grain spaghetti
28 oz can diced tomatoes, drained
2-3 heaping spoonfuls, basil pesto (I like Classico's traditional basil pesto)
2 tablespoons olive oil
1 tablespoon butter
Directions:
Cook pasta according to package. Be sure not to overcook pasta. When pasta has 1-2 minutes cook time remaining, heat a large skillet on medium low heat. Add olive oil and butter. With a pair of tongs, pull cooked pasta out and let excess water drip back into pot. Add all of pasta into the skillet with the olive oil and butter. Mix thoroughly. Add basil pesto and mix throughout. Lastly, add tomatoes and carefully toss into the pasta mixture. You want to be careful with the tomatoes because handling them too roughly will create a sauce and that's not what we're going for. Serve in bowls. Makes approximately 4 servings.
Enjoy!